New Parents, New Possibilities: Navigating the transition to parenthood for LGBTIQ+ families
The New Parents, New Possibilities Parent Series focuses on promoting respectful relationships for LGBTIQ+ people in the perinatal period. The transition to parenthood is an exciting and demanding time for LGBTIQ+ parents, as it is for all parents. As we adjust to the many, varied changes in our day-to-day lives and learn to care for babies or children, we can find ourselves facing surprising challenges and needing to reflect and reassess how to best look after ourselves and our close relationships. Parents who take the time to intentionally consider and actively co-plan for these challenges prior to and in the early stages of parenthood have reported that their reflective processes and shared decision making has built resilience and strengthened their co-parenting relationships.
Parent Booklet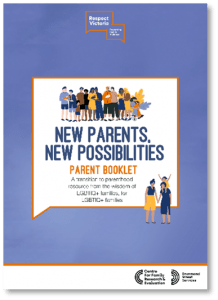 The parent booklet (available for download below) is designed to be used by prospective or new LGBTIQ+ parents. The booklet begins by highlighting some of the strengths of LGBTIQ+ parented families and concludes with a resource list of services for parents who feel they might need a bit of additional support during this time. Click the image above or the link below to download the parent booklet: New Parents, New Possibilities- Parent Booklet.    
Parent Seminar
The LGBTIQ+ group parent seminars normalise challenges and fears, and promote reflection on hopes and values within the parenting team. The seminar is for LGBTIQ+ families expecting a baby, child or children, as well as those who have recently brought a child home, it is inclusive of people who have used a diversity of pathways to family formation, including assisted reproductive technologies, adoption, fostering and surrogacy. This program is made up of 3 x 90 minute seminars full of fun activities that get you thinking about the big transition to parenting. If you are parenting solo you can bring a friend, family member or anyone who is supporting you - if you wish. These sessions aim to boost your confidence and assist you in your relationships with partners, co-parents and family members, as well as help you get used to being a family. The program is low stress (we don't care if babies cry) and you can share as much or as little as you like. If you are interested in attending a parent seminar, contact This email address is being protected from spambots. You need JavaScript enabled to view it..  
---
Resources for Family and Community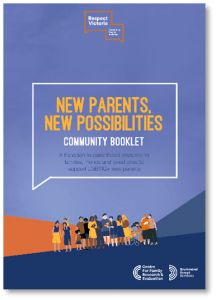 The Community Booklet is for extended family, friends and loved ones. This booklet contains useful information to support new LGBTIQ+ parents during the transition to parenthood. This booklet is available for download by clicking the image above or link below: New Parents, New Possibilities- Community Booklet.  
---